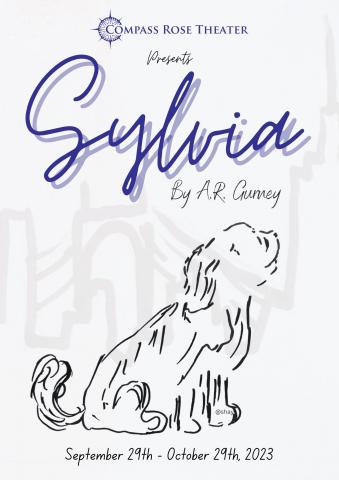 COMPASS ROSE THEATER ANNOUNCES THE CAST 
AND ARTISTIC TEAM FOR "SYLVIA" BY A.R. GURNEY
September 29 — October 29 in Annapolis 
Annapolis, MD (August 30, 2023) — Compass Rose Theater, an award-winning and critically acclaimed professional theater and educational nonprofit in Annapolis, today announced the cast and artistic team for its upcoming adult comedy Sylvia by A. R. Gurney. The show runs from September 29 to October 29, 2023, at Maryland Hall in the Compass Rose Theater. Two-time Ruby Griffith Award-winner Estelle Miller directs it. Tickets at www.CompassRoseTheater.org.
Sylvia features Greg, a middle-aged, empty-nester tired of his finance job and looking for meaning in his life. He finds an energetic and loveable stray, Sylvia (played by actress Allison Meyer). It is love at first sight. But Greg's wife is less than happy about the newfound mutt who jumps, slobbers, and takes Greg's attention away from his marriage. 
About Sylvia, The New York Times wrote, "Dramatic literature is stuffed with memorable love scenes, but none is as immediately delicious and dizzy as the one that begins the redeeming affair in A.R. Gurney's comedy, SYLVIA…" 
The cast includes Jim Murphy (Greg), Michelle Wittrien (Kate), Allison Meyer (Sylvia), and Steven Castrodad Pinzer (triple cast as Phyllis, Leslie, and Tom). The Artistic and Production Team includes Estelle Miller (Director and Set Designer), Barbara Webber (Producer), and Reed Simiele (Stage Manager/Lighting Designer).
"Sylvia offers us a funny and heartwarming glimpse into what our pets might be saying to us. And, it reminds us how our furry family members comfort us during life's challenges," says Barbara Webber, Executive Director of Compass Rose. "You will find yourself laughing and perhaps shedding a tear, undoubtedly loving Sylvia."
New York Daily News said of Sylvia's Broadway production, "I can only call it one of the most involving, beautiful, funny, touching and profound plays I have ever seen…" while BackStage reported, "Gurney's mad comedy is the most endearing good time to trot down the pike in many a moon. Howlingly funny…" 
Since its founding in 2011, Compass Rose Theater has produced more than 50 shows, garnering a Helen Hayes Award for A Chorus Line and five Helen Hayes Award nominations. 
Compass Rose Theater's 2023-24 season also includes I and You by Lauren Gunderson (November—December 2023), The Gin Game by D.L. Coburn (January—February 2024), and The Music Man by Meredith Willson (March—April 2024).
LOCATION: Compass Rose Theater is at Maryland Hall, 801 Chase St, Third Floor, Annapolis, MD 21401. 
TICKETS: Tickets are $25—$55, available until showtime while supplies last. Ticket prices and availability are subject to change. Reduced prices are offered for students, seniors, military/veterans, and groups of 12 or more. (Sylvia contains strong adult language, and parental guidance is suggested.) Purchase tickets at www.CompassRoseTheater.org or by calling 410-980-6662. 
PERFORMANCE DATES FOR SYLVIA: Fridays and Saturdays at 8 p.m. and Sundays at 2 p.m. September 29 - October 29, 2023. (Sylvia contains strong adult language).
TRAVEL/PARKING: Compass Rose Theater, Third Floor, 801 Chase St., Annapolis, MD 21401, minutes from downtown Annapolis. Free parking, including for people with disabilities and E.V. An elevator to the third floor is available. 
###
About Compass Rose Theater
Compass Rose Theater, founded in 2011 under the leadership of Founder and Theater Advisor Lucinda Merry-Browne, is an award-winning and critically acclaimed professional theater and nonprofit teaching company in Annapolis. It is rooted in the belief that theater education creates performance excellence. The theater's unwavering commitment to upholding the highest artistic and educational standards is at the core of each presentation, whether a play, musical, reading, or workshop. It has produced more than 50 shows, garnering a Helen Hayes Award for A Chorus Line and five Helen Hayes Award nominations.
Media contact: Barbara Webber, [email protected] or 410-980-6662.
Cast of Sylvia by A.R. Gurney presented by Compass Rose Theater
Jim Murphy (Greg) 
Jim has been seen in Neil Simon's Jake's Women at Colonial Players, several productions at the Bowie Playhouse, and two feature-length indie film comedies. He is the author of Becoming the Beach Boys, 1961-1963, and is a companion animal veterinarian.
Michelle Wittrien (Kate)
Michelle is excited to make her DMV debut on the Compass Rose Stage. She has been fortunate enough to perform nationwide for the last 26 years. Some of her favorite credits include Palace Theatre: Little Women (Marmee), Mamma Mia (Donna); Fulton Opera House: Legally Blonde (Chutney, Brooke u/s), The Taffetas (Peggy); Prima Theatre: Songs For a New World (Woman 2); The American Music Theatre (Singer/Dancer for 13 seasons). Michelle is also a proud Veteran of the U.S. Air Force, where she served as a Regional Band Vocalist. Her enlistment was filled with proud accomplishments, including a deployment spanning nine countries and singing the National Anthem for former President George W. Bush.  
Steve Castrodad Pinzer (Phyllis, Tom, and Leslie)
Steve began his theatrical training as a dance major at New York City's High School of Performing Arts. He also studied at the American Musical and Dramatic Academy, H.B. Studio NY, and with the Groundlings in Los Angeles. Steve's credits include Miss Saigon (The Engineer), Pedro Man of La Mancha (Pedro), In the Heights (Kevin Rosario), 9 to 5 (Franklin Hart), and South Pacific (Billis).
Allison Meyer (Sylvia)
Allison is a DC-based singer, actor, and voice teacher, making her Compass Rose Theater debut. Her favorite D.C. area credits include Classic Theatre of Maryland: As You Like It (Audrey); Little Theatre of Alexandria: Sister Act (Mary Robert), A Gentleman's Guide to Love and Murder (Woman 1/Tour Guide); Damascus Theatre Co: Head Over Heels (Philoclea); Theatre@CBT: Into the Woods (Rapunzel); British Players: The Wizard of Oz: A British Pantomime (Dorothy), Frosted: A British Pantomime (Ella); Kensington Arts Theatre: Oliver! (Charlotte), The Bridges of Madison County (State Road Singer, Ginny); Good Shepherd Players: The 25th Annual Putnam County Spelling Bee (Olive), Company (April). 
Image Credit: 
Atalante Shay (@Shay)
for Compass Rose Theater, 2023