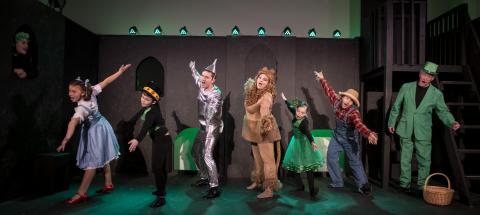 COMPASS ROSE THEATER ANNOUNCES THE CAST  
FOR THE WIZARD OF OZ BY L. FRANK BAUM
Performances April 14 - May 21 at Maryland Hall in Annapolis
Annapolis, MD, April 6, 2023 — Compass Rose Theater, an award-winning and critically acclaimed professional theater, and nonprofit teaching company in Annapolis, today announced the cast for its upcoming production of The Wizard of Oz by L. Frank Baum. The show will run April 14 - May 21, 2023, in Maryland Hall, directed by Compass Rose Theater's founder Lucinda Merry-Browne. For information and tickets, please visit www.CompassRoseTheater.org.  Press photos here (photo credit: Stan Barough).
The Wizard of Oz, a musical family favorite, follows the story of Dorothy Gale, who runs away after a threat to take away Dorothy's beloved dog, Toto, and she feels her family doesn't understand or care about her. Dorothy begins dreaming about a place "somewhere over the rainbow" where "troubles melt like lemon drops" when she is swept up in a Tornado and lands in a magical place called Oz. Dorthy meets a host of unusual characters, including Munchkins, a Scarecrow, Tinman, Cowardly Lion, and Glinda, the Good Witch. But she has to overcome the threats of the Wicked Witch of the West, flying monkeys, guards, and dancing Jitterbugs. Throughout the tale, Dorothy and her friends reveal some of life's most important lessons, including realizing what matters most.
"The central theme of The Wizard of Oz is that the love of home and family is more important than we know. If we have realized anything during the pandemic, it is this truth," says Lucinda Merry-Browne, founder of Compass Rose Theater. "Like many theater companies surviving the shutdown, we're thrilled to return to the stage and create live theater filled with the love of the art. We are grateful for the generous support of our community to continue bringing professional productions to theater lovers throughout Annapolis and beyond."
Leading the cast is Ivy Van Wormer, a student from Indian Creek School in Maryland, playing Dorothy, joined by a professional cast, including New York-based Hunter Miles (The Scarecrow); Andy Collins (The Tin Man); Abigail Weinel (Aunt Em/The Cowardly Lion); Shelby Young (Wicked Witch of the West); Noelle Wiser (Glinda, Dorothy understudy); Greg Anderson (Uncle Henry/Guard); Matt Leyendecker (Professor Marvel/Oz); Lara Dugdale (Munchkin, Nikko, Winkie); Nilsson Benil (Munchkin, Winkie) and Shannon Benil (Professor Marvel/Oz/General understudy). Actors play multiple roles, such as Flying Monkeys, Winkies, Trees, Munchkins, and Jitterbugs. 
"The mission of Compass Rose Theater includes having student actors in our plays who are compensated alongside the professional actors we hire. Our Dorothy, Glinda, and Munchkins are all talented student actors from our local area," Merry-Browne added. 
Since its founding in 2011, Compass Rose Theater has become an award-winning and critically acclaimed theater company, producing more than 50 shows, garnering a Helen Hayes Award for A Chorus Line and five Helen Hayes Award nominations.  
Compass Rose Theater is in Maryland Hall at 801 Chase St, Third Floor, Annapolis, MD 21401. Tickets are available up until showtime while supplies last. Tickets are $25-$55 (offering under ten, students, and military/veterans discounts). Buy tickets at: www.CompassRoseTheater.org or call 410-980-6662. 
The Artistic Team and Production Team includes Lucinda Merry-Browne (Director and Set Designer); Anita O'Conner (Music Director); Barbara Webber (Stage Manager); David Robbins (Accompanist); Lindsey Zetter (Choreographer); Brenda Lasher, Lydia Crooks (Costumers), Sherry Menage (Production Assistant); Marianne Meadows (Lighting Design); Joe Powell, Sr. (Set Construction); Shelby Young (Dance Captain); and, Stan Barouh. (Photographer).
TICKETS: Tickets for The Wizard of Oz are $25-$55 plus applicable fees. Ticket prices and availability are subject to change. Reduced prices are offered for kids under 10, students, seniors, and military/veterans. Tickets are available at  www.compassrosetheater.org. Tickets may also be purchased by phone at 410-980-6662. 
PERFORMANCE DATES: Thursdays at 7:00 p.m., Fridays and Saturdays at 8 p.m., and Saturdays and Sundays at 2 p.m. April 14 - May 21, 2023.
TRAVEL/PARKING: Compass Rose Theater is located at Maryland Hall, Third Floor, 801 Chase St., Annapolis, MD 21401. Free parking, including for disabled and EV, is on site. An elevator to the third floor is available for accessibility. 
About Compass Rose Theater
Compass Rose Theater, founded in 2011 under the leadership of Founder and Artistic Director, Lucinda Merry-Browne, is an award-winning and critically acclaimed professional theater and nonprofit teaching company in Annapolis. It is rooted in the belief that theater education creates performance excellence. As the compass rose on a nautical chart guides the mariner, Compass Rose Theater seeks to guide its performers, students, and audience members on a dramatic journey, charting a course toward evocative and entertaining theater. The theater's unwavering commitment to upholding the highest artistic and educational standards is at the core of each presentation, whether a play, musical, reading, or workshop. It has produced more than 50 shows, garnering a Helen Hayes Award for A Chorus Line and five Helen Hayes Award nominations.
Press Photos here
Cast:
Ivy Van Wormer (Dorothy)
Making her debut at Compass Rose Theater, Ivy is in 8th grade at Indian Creek School. Previous theater credits include Anna (Frozen, Jr., Indian Creek School), Holiday Wishes
(Talent Machine Company), Lorraine (All Shook Up, Talent Machine Company) Matilda (Matilda Jr., Indian Creek School), Holiday Magic (Talent Machine Company), Cogsworth (Beauty & the Beast, Talent Machine Company), Dina (Schoolhouse Rock Jr., Indian Creek School), Violet Beauregarde (Wonka, Talent Machine Company), Lucille (Junie B. Jones, Indian Creek School), and Big Fish (Talent Machine Company). Off stage, Ivy has begun her professional career in front of the screen and is featured in a commercial (Short Codes), has a named role in an upcoming short film (Ultrablack), and is in two episodes of an upcoming Apple TV series (Lady in the Lake). 

Buddy Marx-Webber (Toto)
Buddy, a miniature Yorkie, is making his debut at Compass RoseTheater for his  first on-stage role.  He couldn't be happier with the director, cast, and crew who kept him safe, happy, rested, and well-fed. 

Andy Collins (The Tinman)
Andy is a native of the DMV area and a recent grad from Towson University, majoring in Electronic Media & Film with a minor in Theatre. Andy studied the Meisner Technique at the Neighborhood Playhouse in Manhattan last summer and is eager to branch out for new roles on stage or screen. Andy enjoys voice-over, video, and freelance work when not on stage. Previous credits include Lumiere in Beauty & the Beast, Jack Kelly in Newsies, Rolf Gruber in The Sound of Music, and Various Historical figures in On National Road.
Hunter Miles (Scarecrow)
He recently graduated from The American Academy of Dramatic Arts in L.A. He has been seen performing in Gabe in Next To Normal, Jack Kelly in Newsies, Mr. Bingley in Pride and Prejudice, and Mozart in Amadeus. His most recent role was Ted in Peter and The Starcatcher with The Gallery Players in Brooklyn, New York.
Abigail Weinel (Lion/Aunt Em)
She is an alum of The National Theatre Institute. Past Credits include Rent (Featured Ensemble,) Rapunzarella White (Rapunzel,) The Full Monty (Vicki Nichols,) The Farce Day of Christmas (Karen,) The Pajama Game (Mae,) Company (Joanne,) Newsies (Medda Larkin,) and Anything Goes (Reno Sweeney.) Abigail also works as a Fight and Dance Choreographer. Past credits include She Kills Monsters, Rent, Evil Dead, Bright Star, Mamma Mia, Godspell, and Little Shop of Horrors. 
Noelle Wiser (Glinda)
Noelle is a high school freshman and has performed with educational theater companies, including Young Artists of America (YAA) at Strathmore and Broadway Artists Alliance. Recent performances include YAA's production of Wonderland (ensemble/understudy to Alice). In addition, she was featured as a solo vocalist at Don't Tell Mama's Come Back Cabaret and A Class Act NY Benefit for Gun Safety at the Triad.

Matt Leyendecker (Professor Marvel/Oz)
Matt has appeared in various community theater houses in the MD area and is a cast member at the Maryland Renaissance Festival. Favorite roles include Sir John Falstaff in The Merry Wives of Windsor (Colonial Players), Richard Burbage in The Book of Will (CP), Joe in Becky's New Car (Bowie Community Theater), and many others.
 
Nilsson Benil (Munchkin)
Nilsson is a 4th grader at Key School. His first role was David in Colonial Players' production of The Best Christmas Pageant Ever in 2019. He was also the White Knight in Through the Looking Glass with the Children's Theater of Annapolis.
Lara Dugdale (Munchkin)
Lara was born in England to a professional magician and a former ballet dancer. Lara began taking ballet at 3, and ballet has become a passion. She has been in the Ballet Theatre of Maryland's production of The Nutcracker and has enjoyed such roles as a Party Girl, Tambourelli, Princess, Mouse, and BTM's Conservatory Showcases. Lara has also performed in various groups and solo showcases. During the pandemic, she and her father, Chris Dugdale, created and featured in The Kids Magic Academy, an online magic course for children, as seen on WBAL-TV news. 
Shelby Young (Wicked Witch) 
Shelby was most recently seen playing "AnneEgerman" in A Little Night Music with Reston Community Players, for which she was nominated for a WATCH Award for "Outstanding Featured Actress in a Musical." Her other previous credits are "Johanna Barker" in Sweeney Todd: The Demon Barber of Fleet Street with Rooftop Productions, "Rosa Bud/Deirdre Peregrine" in The Mystery of Edwin Drood with the British Players, and as a Featured Performer in The Show Must Go On! with McLean Community Players singing "The Sound of Music," and "Popular" from Wicked. Before beginning her acting career this past year, Shelby had previously graced the stages of the Sydney Opera House, Carnegie Hall, and the National Cathedral as a soprano soloist and member of various choirs and ensembles, and currently works substituting at several church choirs throughout the DMV. Shelby earned her Associate of Applied Arts degree in Music (Voice) from Northern Virginia Community College, where she also won second place in their annual singing competition, NOVA Idol, singing "Love Never Dies" from the Phantom sequel of the same name. 
Greg Anderson (Uncle Henry/Guard)
Greg is joining Compass Rose Theater for the first time. He has been involved with community theatre for many years, with Colonial Players, Bowie Community Theatre, Prince George's Little Theatre and Church Hill Theatre. A few of his favorite roles include David in "Mornings at Seven," Leon in "Fools," Ken in "Rumors," Hysterium and Miles Gloriosus in two versions of "A Funny Thing Happened on the Way to the Forum," and Fred Gailey in the stage premiere of "Miracle on 34th Street."
Artistic Team:
Lucinda Merry-Browne (Director, Set Designer)
Lucinda Merry-Browne is the Founder and Artistic Director of Compass Rose Theater. Blending her experience as a theater educator and a professional actor and director, she founded Compass Rose to create a teaching theater, rooted in education, but offering outstanding quality in its professional productions. For Compass Rose Theater, she has directed and produced 33 mainstage productions, acting in three. 
She was the co-founder of The Bay Theatre Company, formerly in Annapolis, and served as its Artistic and Managing Director for the first eight years of its life. For the Bay Theatre, she mounted twenty-two productions, directing eighteen and acting in six. She found space in Downtown Annapolis and retrofitted it as a theater, lobbied the Helen Hayes Awards to add the City of Annapolis to their geographic judging area, and turned the theater into the first and only Equity theater in Anne Arundel County. In March 2013, Compass Rose Theater relocated to Spa Road. In 2022, after the pandemic shut down, it found its new home in Maryland Hall.  A professional acting coach, her teaching career includes Round House Theatre, Archbishop Spalding High School, Maryland Hall, and Anne Arundel Community College. She trained at the Pittsburgh Playhouse and is a graduate of The American Academy of Dramatic Arts in NYC. Lucinda holds a degree in English from Duke University (magna cum laude) and attended Wellesley College. She is a member of Actors' Equity, the Union of Professional Actors and Stage Managers in the United States.
David Calvin Robbins (Accompanist)
David is a pianist, MD, and composer originally from Chesapeake, Virginia. He is unique among classical musicians because of his improvisational facility, which he employs during recitals and theater shows. This past year, he performed in Beethoven's 3rd Piano Concerto with the Classical Revolution RVA Symphony, Full Moon Fever: A Tom Petty Tribute Band, Virginia Music Theater's School of Rock, RPAA's sold-out Making Merry with Grey, and Mamma Mia! at Virginia Repertory Theater. Grammy-winning music director of the Virginia Symphony, Joann Falletta, called Robbins her "favorite pianist," In her last seasons there, he was the lead pianist for the orchestra. Among the works he has performed with major symphony orchestras including the U.S. Premiere of Danny Elfman's Eleven Eleven, seven seasons of Richmond Ballet's Nutcracker, Prokofiev's Romeo & Juliet, Shostakovich 5, Appalachian Spring, Petrushka, and the live concert films Harry Potter 1,2 & 3, The Empire Strikes Back, and Home Alone. He started writing music before studying piano and is a self-taught composer and songwriter. He has composed and recorded music for an independent tv pilot, a podcast, and several improv comedy revues. In 2021, he was a featured composer for Classical Revolution RVA, where several of his works were performed, including his "Cheeseburger Trio," which is scored for piano, cello, violin, and a McDouble. He holds a Master of Music from the New England Conservatory of Music and a Bachelor of Music from Shenandoah Conservatory. In addition, he is a doctoral candidate at Virginia Commonwealth University for a Ph.D. in Education.
Anita O'Conner (Music Director)
Anita was also the music director for Fiddler on the Roof, Camelot, Cats, Roar of the Greasepaint, Brigadoon, and The Sound of Music at Compass Rose. Two years ago, she music directed The Producers at Annapolis Summer Garden, which won the Ruby Griffith award for best all-around production. On stage, her favorite roles include Aldonza in Man of La Mancha, Fanny Brice in Funny Girl, and Sonya in They're Playing Our Song.
### 
Media Contact:
Barbara Webber
410-980-6662